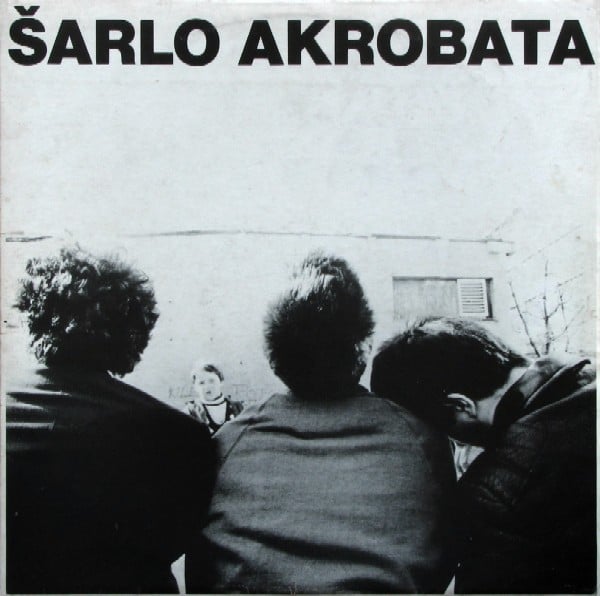 And here is probably the best album of the whole Yugoslavian new waves/punk scene – Sarlo Akrobata "Bistriji ili tuplji covek biva kad...". Now I know it's a big call, but here was the band that pushed the boundaries like no band had before, at least when it comes to Yugo music.
Sarlo Akrobata formed in 1980. Basically, all three of them played in another band with another guy who left after the show when local punks spat on him in aproval of their wild music. The remaining three decided to continue, changed their name (Sarlo Akrobata is what Charlie Chaplin was called locally back in the 1930s) and changed their music style. A lot.
These three piece was furious, fast, loud, dissonant and chaotic in the best possible way. Together with Idoli and Elektricni Orgazam they released some songs on seminal new wave compilation LP "Paket Aranzman", which only hinted what Sarlo Akrobata were capable of, and what will they deliver with their debut album.
The album was recorded in Belgrade in April and May 1981. The band brought in their own recording engineer and some friends to help out and layed down 13 songs to be released by major Belgrade label RTB. However, upon listening to the material the label guys freaked out and decided to can the whole project. Luckily, Croatian label Jugoton was willing to put it out and the record came out in August 1981. Unfortunately, plagued by artistic differences, the band pretty much broke up by then...
This album contains the best elements of punk and new wave of the time and it sounds like a healthy mix of Gang of Four, Pop Group and Pere Ubu. There are a couple of songs that I could live without, in which they blended some ska/white reggae influences, but Police and Specials were the biggest bands at the time, so I guess Sarlo guys were not immune to it.
I remember seeing their 30 minute live show on TV in 1981 and my 10 year old brain was not able to grasp what I was hearing coming from the screen. In May 1981 they supported Gang of Four in Zagreb. A few eyewitness claim that Sarlo was so great, that after they finished Gang of Four guys decided to wait another hour before they get on stage, as they didn't want to come as second best.
After Sarlo Akrobata broke up, the two bands formed and they pretty much shaped the future of good popular music in former Yugoslavia – one was Ekatarina Velika (who started as decent post-punk/wave/Talking Heads band) and the other was Disciplina Kicme, whose early records are unreal, amazing, mindblowing, brilliant, fucking masterpieces! And I shall share them with you here soon.
Two of the band members passed away in the 1990s... The album finally got a proper CD reissue a few years ago, not very well mastered though.
Here is Sarlo Akrobata album, as it was originally released.